Some extra special events and happenings to enjoy the community and all it has to offer. Feel like we are missing regular events from pre-covid times? We are continuing to ramp up our offerings again as the ability to gather safely increases! Once we are able, Belay Buddy Nights, Members Appreciation Events, and comps will be back on the calendar! We can't wait to hang out with you all as soon as the time comes.
---
---
Womxn-Specific Series
Intro to Training Walls
$15 for Members

Beginner & Intermediate climbers looking to expand your base climbing strength and movement awareness by utilizing training boards.

Max 6 participants
Womxn-Specific Series
Advanced Training for Climbers
$15 for Members

Intermediate & Advanced climbers looking to explore climbing specific training techniques and tools to help you target muscles that will increase your strength and power on the wall. Then learn how to apply that power in your everyday climbing.

Max 6 participants
Fort Nights at Ascent Studio
$10 Night-pass after 6pm
Gear not included

Date night, friend hang, or just want to get in a Friday night sesh? Ascent Studio is the place to be. Fort Nights is every other Friday. Mark your calendars.
Thanks for being you!!


While we wait for our regular member appreciation events to start back, we've got a little something to hold you over. Bring in a friend on April 22nd (no need to use your monthly guest pass, this one is on us) and then grab a Rally King beer voucher on your way out the door!

*Only 1 beer voucher can be used/month/person and vouchers are for members only (21+ of course). Also, don't forget to show some love to your beertenders with a good tip for providing you with free beer! Staying for more beers after? Don't forget Ascent members get 10% off your whole tab!
Level 2 USAC Routsetting Clinic
Enrollment through USAC


This one is for the setters! Expect area closures until 5pm in both ropes and bouldering zones while the clinic utilizes these areas. Ascent will be hosting talented setters from around the states as they work to develop their competition setting skills through USAC. We appreciate your patience during closures and hope you will be sure to enjoy the unique sets left at the end of each day!
Womxn-Specific Series
Training Meet Up
Free for Members

Join Anna every other Friday for a guided workout upstairs in the mezzanine. This workout is specific to climbing and for womxn only.

Follow along with Anna's workout or do your own thing. Either way, meet other ladies to train with and start your weekend off proper.

Max 9 participants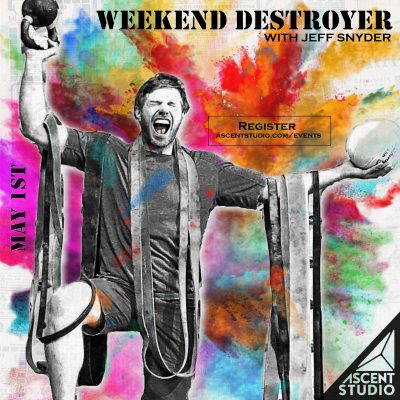 Not for the faint of heart.


This is an extended, weekend version of TRIAD training. Varied mental and physical drills that are one part fun and one part challenge...think climbers boot camp. Designed for the climber that wants a new mix in the routine and will commit to pushing to the brink. If you you like to try hard, prepare to learn to try harder.
Amazing opportunity alert!


It is not often that we get to offer Rock Warrior's Way, so be sure to take advantage of it now! This is a tried and true falling and commitment clinic to help your lead climbing head, learn to give better catches (that your partner will sure thank you for), and give your more confidence in your overall risk-assessment while on the wall.

May 8th from 8am-1pm | You'll get your money's worth with this 5 hour clinic led by the knowledgeable and talented coach/instructor, Lor Saborin. Check out their bio here.