Some extra special events and happenings to enjoy the community and all it has to offer. We are ramping up our member benefits again as regulations are easing and more individuals are fully vaccinated. So once again you'll find meet ups, member nights, and competitions back on the calendar! See you soon friends!
---
---
July 22th


We are hosting a Covid Vaccine Clinic at the gym from 5pm - 7pm. Vaccines offered will be Pfizer for 12+ individuals and J&J for 18+ •• FYI : If you get your 1st Pfizer shot on the 22nd, you can be fully vaccinated by the time school starts back!
Nonmembers get a free day pass when you get vaxxed that will be good through the end of the year! Members will be entered into a drawing for a free 1 month membership •• No need to sign up, just come on by!
Starts July 20th


Stoked to get back to our old league format with meet up nights and a final party! Each week enjoy fresh boulders made just for you, hang with new friends and old, and soak up some good ol' fashion friendly competition.
July 10th & 30th


Excited to announce that a regularly scheduled Pride Night meet up is starting this month! This meet up is for those that identify as LGBTQ+ and are looking to meet others in the community to climb with, learn from, and get some climbing in!
7pm-9pm


Every month Marci leads a group of ladies through a fun and engaging evening at the gym. Boulder, rope climb, and hang out with other femmes in the community. Get your self signed up! Spots go fast.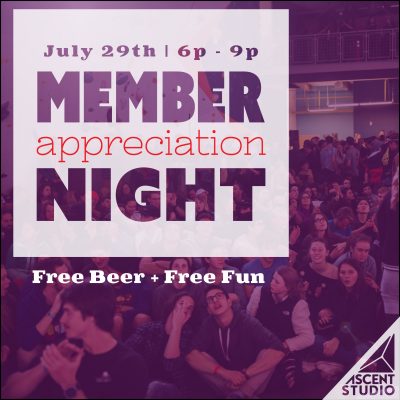 Member Appreciation Night
6:00pm-9:00pm



Free beer from Rally King Brewing (our besties) and a Zlag Board comp this month! How long can you hang?
**Beer is for 21+ members only