Team Ascent
The objective of Team Ascent, as a whole, is to grow and expand a love of climbing. We want to develop lifelong climbers that are engaged in the community for as long as they desire to remain invested in the sport. We approach training and competition with this perspective. Team Ascent will be using the USA Climbing Youth Competition Circuit to orient its training throughout the year. Our goal is to use competition as a means to grow into well-rounded climbers and people. Because of this, we expect that our athletes on Team come to practice prepared to train and improve.
We are dedicated to developing physically AND mentally strong athletes. All teams spend a large amount of time focusing on mental growth and health. We believe that climbing is an emotionally intense sport; and as such, provides an excellent platform to learn how to acknowledge and handle our emotions in a productive way. We want to be using climbing as a means to develop confidence and self-awareness that can apply to our lives as a whole.
Divisions
Team Ascent is divided into two age groups that follow the categories delineated by USA Climbing, the national governing body over youth climbing competitions. Youth C and D, comprised of athletes born 2009 or later, makes up our younger team. Youth A, B, and Jr, comprised of athletes born 2003-2008, makes up our older team. Within each group, we have three divisions; with different practice and competition expectations for each.
Prep Team
The prep team functions as an entry point from our club program into the Team, as well as a place for athletes who have the motivation and attitude we look for on the team, but may need more experience to further develop their strength and skill base.
Development Team
The Development Team is designed to cater to our athletes that are ready to train as many hours as the Comp Team, but may need emphasis on different areas of strength and skill. We want to be teaching our development team athletes self awareness by focusing on how to set, pursue, and achieve personal goals that are challenging and specific.
Comp Team
The Comp Team is aimed to prepare athletes to climb and compete at a high level. Athletes will learn in depth competition strategy, advanced movement on the wall, and climbing-specific strength training. It is very important that these athletes have a high-level strength and skill baseline so that they are physically and mentally capable of benefiting from the increased intensity of comp team practices.
Fall 2021 Team Ascent Tryouts
Fall Tryouts will take place August 28th and 29th. Athletes only need to attend one day. Tryouts are separate for C/D athletes, born 2009 or later; and A/B/Jr athletes, born 2003-2008.
The purpose of tryouts is to find a place within The Ascent Studio Youth Instructional Program that enables each athlete to best grow as a climber. With that in mind, we limit the number of spots on each team to maintain a balanced coach-athlete ratio and enable us to give each athlete the individual attention they need. Trying out does not guarantee a spot on the team; generally, there are a greater number of participants in tryouts than spots available on the team.
We highly recommend that climbers have prior experience in a youth climbing program either at Ascent or another climbing facility BEFORE trying out for the team.
Follow these links to sign up: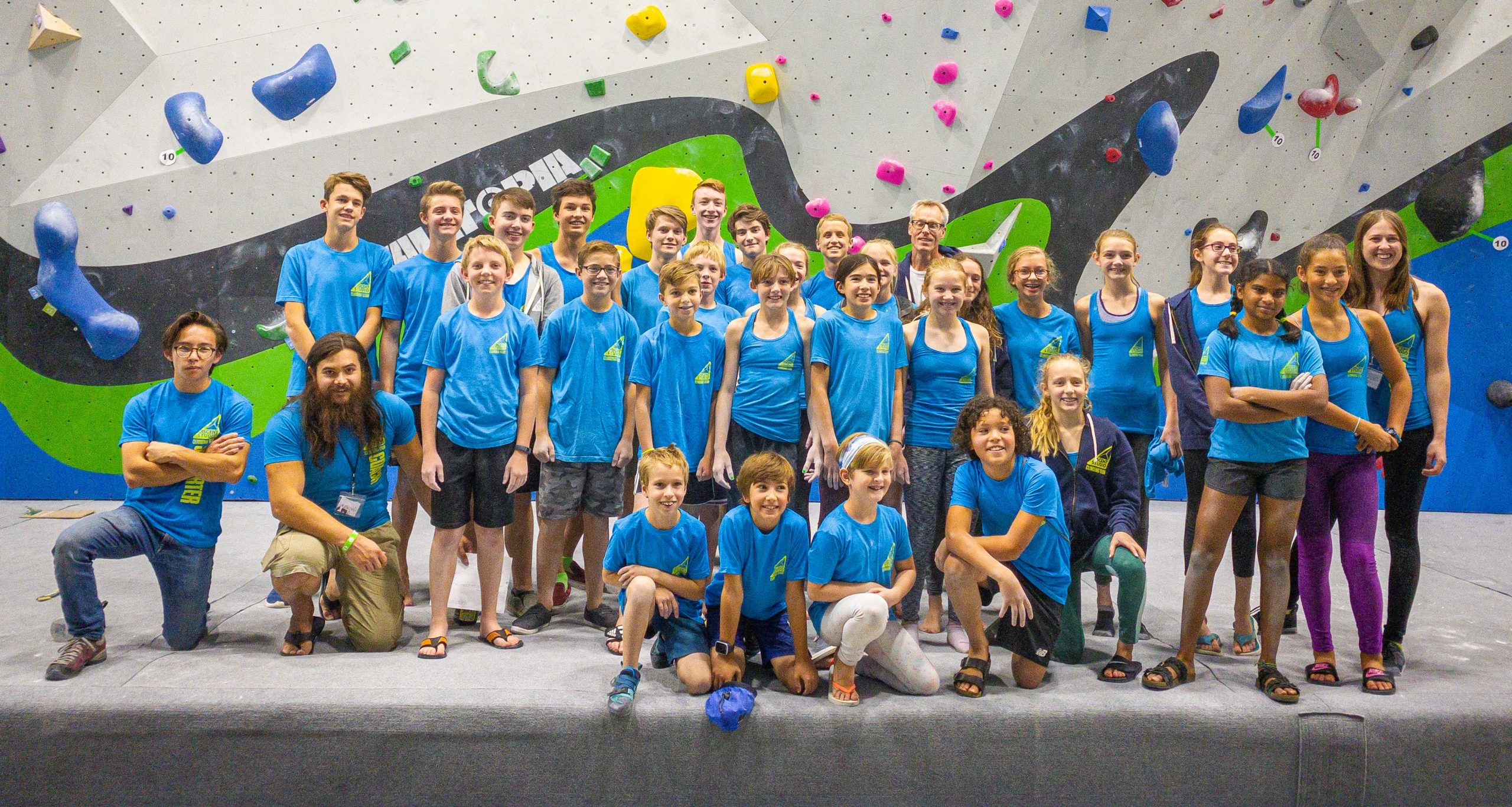 Team Ascent attending a local bouldering competition at another Front Range gym.