Ascent Studio is a next generation climbing and fitness facility in Fort Collins, the heart of Northern Colorado's front range. We are focused on creating a unique indoor climbing experience and building an inclusive, friendly climbing community.
Whether you are training for a first ascent, or simply hoping to overcome your fear of heights, we have designed Ascent Studio for you. From the moment you peek in our expansive windows, we want you to feel welcomed, inspired and empowered to achieve something new.
Bouldering
The bouldering area has sections reaching 15 feet tall, spanning everything from gentle slab to steep overhangs. Some areas are top-out, so start working on your mantle. There is a bouldering ramp from the ground floor to the climbing mezzanine, allowing endurance bouldering "routes" that are more than 35 feet long.
Top Rope and Lead Climbing
The rope climbing walls range in height from 34 - 49 feet tall. Most of the 45 top-rope lines are also leadable. An additional 15 anchor points are lead-only, to a height of 46 feet (and 25 feet overhung) allowing routes of up to 55 feet long. There are also 4 different crack climbing routes.
Speed Climbing
We have two International Federation of Sport Climbing official 10M speed climbing lanes. For much of each year these are set up for practice using the official speed holds by our youth teams and the CSU Collegiate Climbing Team. They are also available for anyone interested in giving it a try. The current world record for a 15M wall is 5.6 seconds. Think you can beat that?
The setting on those lanes will rotate between the official IFSC speed climbing holds and regular climbing holds.
Training
Get stronger in our dedicated training section. This features two adjustable systems walls, expansive campus board, hang-boards, free weights, cable cross-over, Power Cage, and cardio area. The cardio area features treadmills, an elliptical, rowers, and air bikes.
Yoga & Fitness Classes
The yoga studio offers weekly scheduled group sessions for yoga. Standard yoga and fitness classes are included in your membership and day pass fees. Some specialty classes are also occasionally offered.
Other Features
We also have free Wi-Fi, full-service locker rooms, an outdoor patio, and posts for setting up slacklines on our north lawn.
Bouldering from gentle slab to steep overhang, 13' to 15' tall sections with some top-out
Roped climbing walls from 34' to 49' tall, 49 top-rope lines, most of which are leadable
11 lead-only anchor points
Auto-belays
An official IFSC speed climbing lane
Arêtes, hanging arêtes, dihedrals, roofs, mini-roofs, slabs
Cracks: fingers, hands, fists, left and right facing corners
4-6 week turnover rate for boulders
6-8 week turnover rate for ropes
Yoga studio with daily classes
Dedicated training area with two adjustable system walls, campus board and hang-boards
Fitness area with free weights, cable crossover machine, treadmills, rowers and exercise bikes
Full-service locker rooms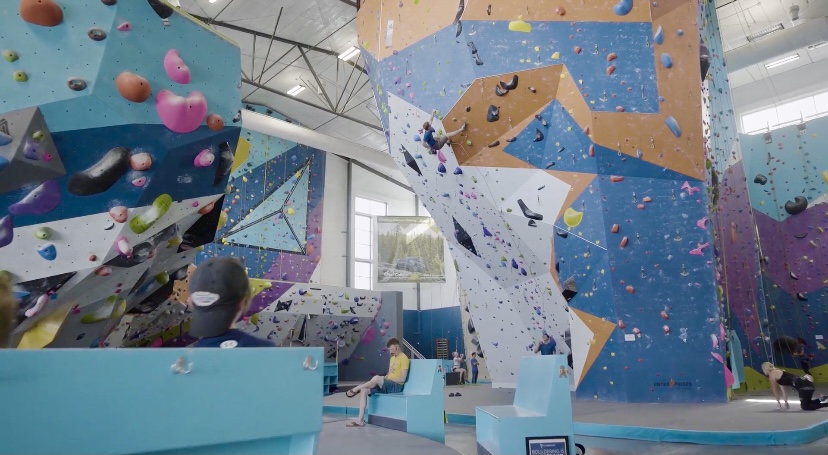 WHAT'S IN A NAME?
"Studio" is used in many different contexts: yoga studios, recording studios, art studios, dance studios, martial arts studios, film studios, pottery studios. What do people do in these studios? Train, practice, create, collaborate, jam. These positive actions are all associated with climbing too. We want Ascent Studio to transcend the traditional climbing "gym." Come join our climbing studio. Train with us, create with us, practice with us, climb with us!