Fall 2017 Adult Sport League Wrap Up
Thanks to everyone who participated in our first Sport League. It was great getting to know so many new people from our climbing community. I hope that everyone had as much fun as I did and that you all met at least one or two new people to expand your personal climbing community.
For me it was a different experience from a normal evening of climbing with friends. I found myself striving to climb above my target grade; not wanting to spend my limited effort on a "lesser" route. And at the same time I could experience the excitement of my teammates setting and achieving new goals. I know that at least for a few people the league pushed them to climb harder than they otherwise would, and set a new high-water mark on their ability.
The main "prize" of the league was to be able to choose the charity to receive a donation from the Ascent Studio climbing community. As you may know, the gym collects a LOT of unclaimed gear from our Lost & Found. All of that which is usable is put on consignment at The Gearage (in downtown Fort Collins). For the past few months the proceeds from the sale of that gear has been accumulating in our account... amounting to $342. Ascent Studio is matching that amount, to donate a total of $684.
So who won? At least from my perspective we all did, since the league(s) are achieving my goal for them to help foster a feeling of community, and some cash is going to two worthy causes. For those of us who are competitive, here are the top 3 teams, and the charity to which they have chosen to direct the winnings.

1) Team Al (11,700 pts) - Access Fund : 50% = $342.00
2) Send It Like Beckam (11,200 pts) - Northern Colorado Climbers Coalition : 30% = $205.20
3) Delta (11,100 pts) - Access Fund : 20% = $136.80
You can find the detailed finals scores here.
The winter bouldering league starts Wednesday, Jan 31st, two weeks after the Battle for the Fort competition.
NOTE: We still have league shirts for those of you who did not pick that up during the league. Just ask at the front desk.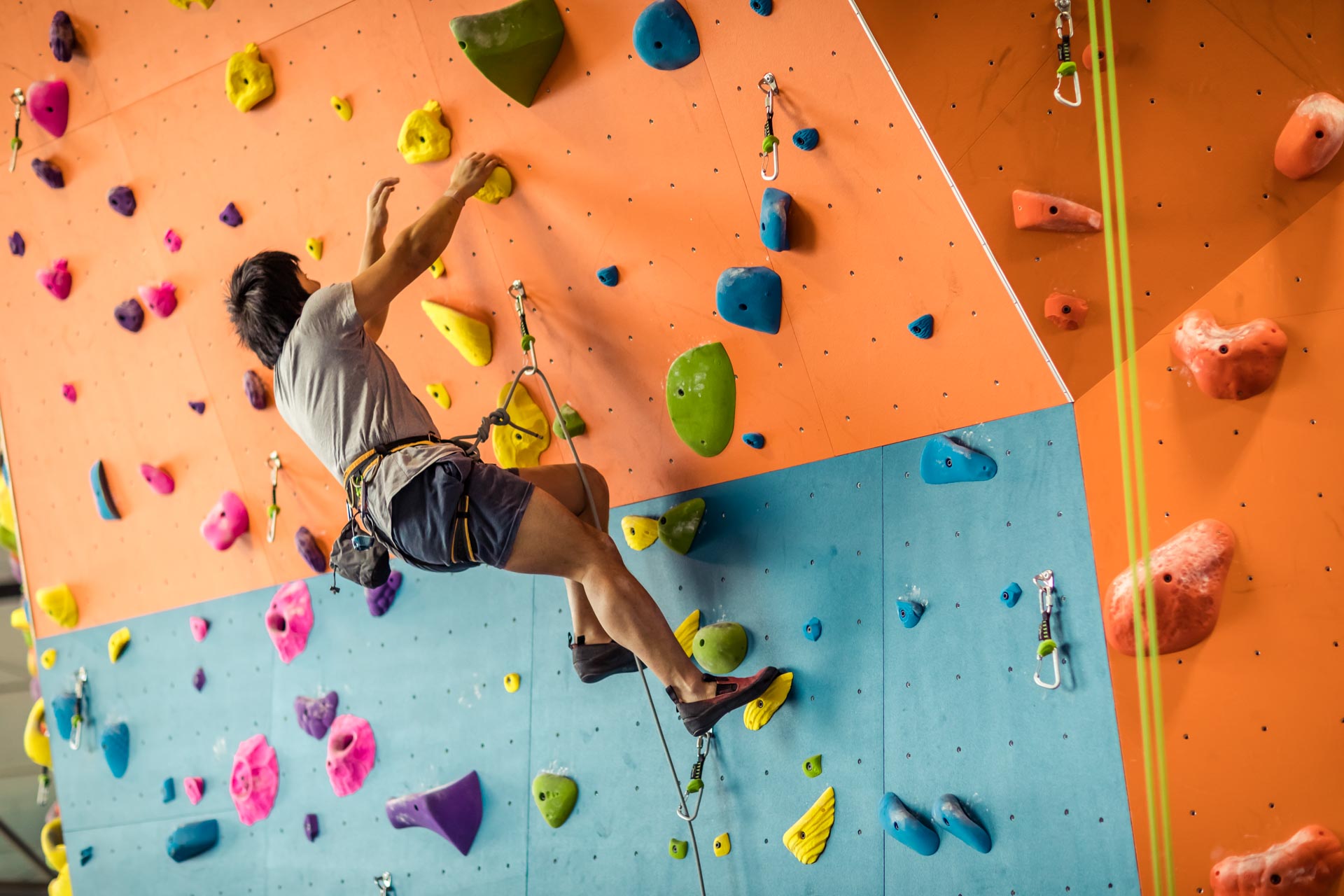 Fall 2017 Sport League Details
We are continuing in the tradition of our Summer Bouldering League by creating a setting where climbers of all abilities can enjoy an evening climbing together and hopefully getting to know more people in the gym. To that end, this will also be a team-based league, but this time you can put together your own team (or if you don't have a regular set of partners we'll put you on a team).
The scoring will be different to account for the varying abilities of climbers. Basically like a golf tournament you'll have a handicap, and you'll be rewarded for climbing above your "normal" abilities and progressing.
Here's the skinny
Starts Wednesday, Nov 1 at 6:00pm.
Meets Wednesday at 6:00pm every week, skipping the Wednesday of Thanksgiving week, and ending on Dec 13.
Participants create their own team of 4 climbers. If the climber doesn't have a team, they can still join the league, and we'll put them together with a team that needs filling up.
It's okay if you can't arrive until later. You can climb until 10pm.
Over the course of the league your score will be your top 4 weeks of league scoring (not including finals)... thus, you are allowed to miss 1 week (of the 5 normal league nights) without it affecting your score.
Price: $30 includes a t-shirt, and a party for finals.
T-shirts provided towards the end of November.
Finals on Wed, December 13th. We haven't set the format for that yet, but we hope to again create a venue where everyone can get a moment in the spotlight.
Week 1: Nov 1
The first week, before starting to climb, each person will declare their "TARGET" grade. This should be the top grade that you normally climb consistently well, but don't always flash. If you are a lead climber, then this should be a grade that you can achieve on lead. We do reserve the right to increase your target grade (and recalculate your scores) if you end up underestimating your ability.
The rest of the evening you'll attempt to complete 5 climbs at or above your target grade. You'll get more points for going above your target and fewer points for climbing below your target. All of the rope routes in the gym are available for you to climb and achieve points.
It's OK for you to have climbed/rehearsed a route before arriving at the gym on league night, but to get the points for a route on league night you must send it cleanly, bottom to top without hanging on the rope. If you fall, then your belayer must lower you to the ground before starting again for it to count.
Weeks 2 - 5: Nov 8 - Dec 6
Each week all of the rope routes in the gym are available for you to climb and achieve points. If you received points for a route one week, then you are allowed to receive points for that same route a subsequent week, but only 2 times for any specific route. Each week the setters will remove some routes and put up new ones so you should always have enough new routes at or above your target grade.
Weeks 6: Dec 13
See details about the finals format below. Everyone gets to climb and contribute points to the team score.
Scoring
To determine how many points you'll receive for a climb look at the column that corresponds to your target grade. Then go down the column to find the grade of the climb that you completed. Your points are listed in the left-hand column.
Bonus points are given for climbing the route on lead. Lead bonus = +5. Routes on the lead prow that can only be climbed on lead do still get the lead bonus.
We may adjust this table slightly if we see that it could be made fairer.
Climber Target
----------------
Points
5.7
5.8
5.9
5.10
5.11
5.12
60
5.7
5.9- , 5.9
5.10-, 5.10
70
5.6
5.8, 5.9-
5.9+, 5.10-
5.10+, 5.11-
80
5.6
5.7
5.9, 5.9+
5.10, 5.10+
5.11, 5.11+
90
5.6
5.7
5.8
5.10-
5.11-
5.12-
100
5.7
5.8
5.9-, 5.9
5.10
5.11
5.12
110
5.8
5.9
5.9+, 5.10-
5.10+
5.11+
5.12+
120
5.9
5.9+, 5.10-
5.10, 5.10+
5.11-
5.12-
5.13-
130
5.9+, 5.10-
5.10, 5.10+
5.11-, 5.11
5.11, 5.11+
5.12, 5.12+
5.13, 5.13+
140
5.10
5.11-
5.11+
5.12-
5.13-
5.14-
Finals Format
The concept for this Finals event is that each participant, no matter their ability, will be able to enjoy the experience of participating in a sport-climbing, finals event, in which they get one chance to get as high on the route as they can, while the crowd is cheering them on.
The routesetters are going to set seven new routes specifically for the Finals event. All of these routes will be fresh and unclimbed by anyone but the routesetters. All will be leadable, some will be top-ropeable. Each route will have some unique quality that is suited to different climber abilities.
The actual climbing for finals will commence at 7pm, but everyone can show up ahead of time to get warmed up and preview the routes (but not climb on them). We will also accommodate people showing up late. We expect the actual climbing to last through 8:30 depending on how quickly things move along and when the last person arrives to climb.
Before the climbing commences at 7pm each person will select one of the seven routes to climb. During this preview time everyone can suss out which route is most suited to their style or interest. People arriving late will get to select their route when they arrive, likely with only a minimal preview so that they do not have an advantage by watching multiple people climb.
Each of these routes will be set at a grade of 5.13-, BUT they will be set very "progressive", meaning that the beginning moves will be very easy, such that anyone in league can start the route, and as you climb, the route will get progressively harder through 5.10, 5.11, 5.12, and finishing in the 5.13- range. Roughly a quarter of the route will be up to the 5.10 range, a quarter in the 5.11 range, a quarter in the 5.12 range, finishing up through hard 5.12 into 5.13.
Also, each climber will get a score that will contribute to their team scores. This will be scored based on their target rating (which we've been using to score throughout the league). For reference (and for team scoring) there will be specific marked holds on the route at the top of each section 5.10, 5.11, 5.12, Top.
For example: let's say your target rating is 5.10. If you make it to the marked 5.10 hold, but do not make it to the 5.11 marked hold, you'll get 500 points. If you only make it the first few moves and do not reach the 5.10 marked hold, then you'll receive 450 points. As usual, getting beyond your target grade earns you more points. The astute mathematician will observe that these point values are roughly equivalent to a weekly potential point value. Your score on the Finals route does get added to your overall score for the league which affects the team score like usual.
See the complete point values in this table (similar to the previous scoring matrix).
Hold achieved >>>
Climber Target vvv
start
5.10
5.11
5.12
top
5.7 - 5.9
100
110
120
130
140
5.10
90
100
110
120
130
5.11
80
90
100
110
120
5.12
70
80
90
100
110