Who is Ascent?
We are an energetic team of dedicated climbers working together to:
Foster community. We strive for a diverse, inclusive, friendly community with a shared passion for climbing.
Serve the community. We have the duty and privilege to provide the front range with the best indoor climbing experience possible.
Have fun! We're always looking for creative ways to inspire and pleasantly surprise.
Join us!
How to Apply
Please review the job descriptions and qualifications listed below to determine if you're a good fit for our open positions. If so, please send a resume and cover letter indicating what position(s) you are applying for to:
We strongly encourage people from underrepresented groups to apply.
Ascent Studio is proud to be an Equal Opportunity Employer. We do not discriminate on the basis of race, religion, color, sex, gender identity, sexual orientation, age, non-disqualifying physical or mental disability, national origin, veteran status or any other basis covered by appropriate law. All employment is decided on the basis of qualifications, merit, and business need. We are pleased to be an inclusive and welcoming community.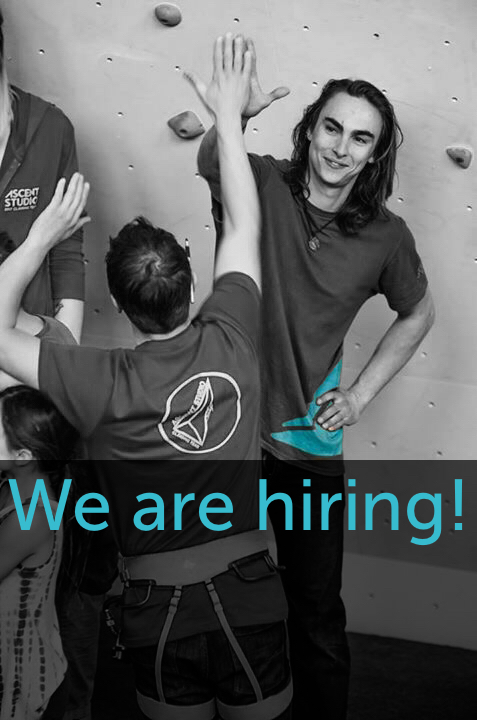 Youth Programs
Youth Instructor
Job Parameters
Part-time, 5-20 hours per week
Weekend availability required
Pay Range: $12.50/hr to $13.50/hr, DOE
Job Requirements
Passionate about climbing.
Proficient with technical climbing skills including but not limited to belaying, knot tying, harness usage, and rope management.
Experienced in working with youth.
Able to provide youth-specific climbing instruction up to a v6 and 5.12- skill level
Invested in the climbing community.
Pediatric First Aid & CPR Certified (even if not current).
Available during the operational hours of the Ascent Studio Youth Clubs.
At least 18 years old.
Available during programming hours, which are evenings and weekends.
You Will:
Uphold the Mission and Values of the Ascent Studio Youth Clubs.
Instruct youth ages 3-14 on the technical skills, techniques, and movement associated with bouldering and sport climbing.
Tailor instruction to match the abilities and needs of specific Ascent Studio Youth Club participants.
Model and enforce best practices to maintain a culture of safety in the gym.
Prepare youth ages 3-14 to be effective and ethical members of the climbing community.
Communicate with parents regularly to keep them informed and excited about past and upcoming youth programming.
Youth Programs Coordinator
Job Parameters
Full Time Hourly, 35-40 hours per week
Full Time Benefits include PTO and a $150 monthly health insurance stipend
Pay Range is $16-$19 hourly, DOE
Job Requirements
Must be at least 20 years of age.
1 year of management experience.
2 years of experience in youth instruction, preferably related to climbing.
5 years of climbing experience, preferably indoor and outdoor.
Able to provide youth-specific climbing instruction up to a v6 and 5.12- skill level
Able to interact with parents on a professional level.
In-depth knowledge of and ability to teach all youth program offerings at Ascent Studio.
You Will:
Work directly with the Director of Programming, Lead Youth Instructors, and Youth Instructors to ensure that the Ascent Studio Youth Programs run smoothly and maintain safety and consistency for all participants.
Manage the scheduling of Lead Youth Instructors and Youth Instructors for all Youth Clubs and Classes.
Participate in the hiring and training process for Youth Instructors and Lead Youth Instructors.
Work with the Director of Programming to organize and lead regular Youth Staff meetings and trainings.
Stay actively involved in every level of the Youth Clubs and Classes to ensure the optimal experience for each participant.
Personally instruct a minimum of 8 hours of Youth Clubs and Classes per week.
Work with the Director of Programming in developing and updating curricula for all Youth Clubs and Classes.
Track and communicate anecdotal data from all youth programs; including curriculum flaws and successes, safety and behavioral incidents, and participant attendance.
Work with the Director of Programming to build the schedule for all youth programs, assess the need for specific offerings, and develop new offerings as needed.
Interact with parents frequently to provide the best possible experience for all parents associated with the Ascent Studio Youth Clubs and Classes.
Work with the Director of Programming to assess marketing needs for all Youth Clubs and Classes offered by Ascent Studio.
Yoga & Fitness
Yoga Instructor
Job Parameters
Part-time, teaching 1-2 regular classes per week with availability to sub for other instructors as needed
Weekend availability is preferred
Pay Range: $20-$25 per session, DOE
You Are:
A well-rounded, experienced yoga instructor
Comfortable teaching both Vinyasa and Restorative/Yin style yoga
Preferably experienced in teaching Yoga with weights (not required)
If you are interested in this position, please email your yoga resume to Megan, our Yoga and Fitness Coordinator: megan.ramirez@ascentstudio.com