Who is Ascent?
We are an energetic team of dedicated climbers working together to:
Foster community. We strive for a diverse, inclusive, friendly community with a shared passion for climbing.
Serve the community. We have the duty and privilege to provide the front range with the best indoor climbing experience possible.
Have fun! We're always looking for creative ways to inspire and pleasantly surprise.
Join us!
How to Apply
Please review the job descriptions and qualifications listed below to determine if you're a good fit for our open positions. If so, please send a resume and cover letter indicating what position(s) you are applying for to: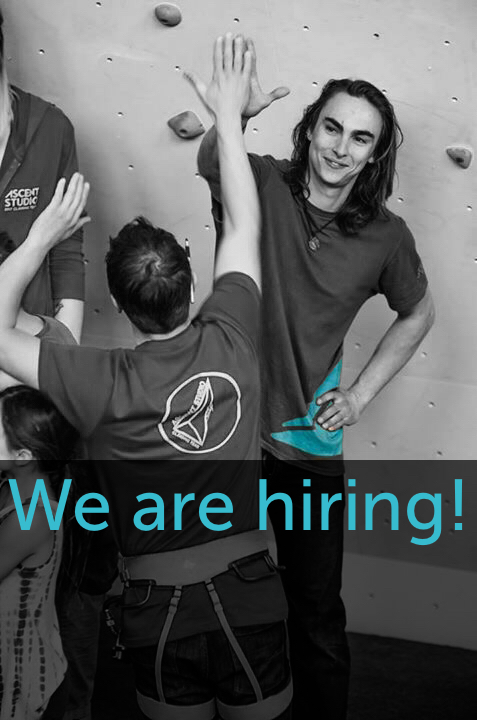 Youth Instructor
You Will
Uphold the Mission and Values of the Ascent Studio Youth Clubs.
Instruct youth ages 3-14 on the technical skills, techniques, and movement associated with bouldering and sport climbing.
Tailor instruction to match the abilities and needs of specific Ascent Studio Youth Club participants.
Model and enforce best practices to maintain a culture of safety in the gym.
Prepare youth ages 3-14 to be effective and ethical members of the climbing community.
Communicate with parents regularly to keep them informed and excited about past and upcoming youth programming.
You Are
Passionate about climbing.
Proficient with technical climbing skills including but not limited to belaying, knot tying, harness usage, and rope management.
Experienced in working with youth.
Invested in the climbing community.
Pediatric First Aid & CPR Certified (even if not current).
Available during the operational hours of the Ascent Studio Youth Clubs.
At least 18 years old.
Available during programming hours, which are evenings and weekends.
Team Ascent Assistant Coach
You Will
Embody the mission statement and core values for Team Ascent, as well as the mission and values of the Ascent Studio Youth Instructional Program.
Attend all scheduled Team Ascent practices, or secure coverage when travel or other life events prevent practice attendance.
Support the implementation of training programs for the Prep, Dev, and Comp levels of Team Ascent, as designed by the Head Coach.
Abide by coaching practices that emphasize the physical and emotional health and safety of all Team Ascent athletes.
Defer to the authority of the Head Coach with respect to the direction, progression, and vision of Team Ascent and its athletes.
Travel with qualifying Team Ascent athletes to local, Regional, Divisional, and National level competitions, at the discretion of the Head Coach.
Support a healthy relationship with all other Front Range climbing team programs, athletes, and coaches.
Support a constant line of communication with Team Ascent parents and athletes, as established and directed by the Head Coach.
Communicate regularly with the Head Coach and larger coaching staff regarding individual Team Ascent athlete performance and progression, to ensure a consistent dialogue between the coaching staff and individual athletes/athlete parents.
Pursue professional coaching development opportunities on a personal level, as recommended by the Head Coach and with the support of Ascent Studio Climbing & Fitness.
Assist the Head Coach in ensuring that Team Ascent functions as an independent but integrated unit within the Ascent Studio Youth Instructional Program.
Create relationships with members, and help form bonds within the climbing community.
Be the face of Ascent Studio!
You Are/Have
Minimum 2 years of extensive climbing experience in multiple disciplines at an advanced level, including both indoor and outdoor bouldering and sport climbing
Ability to provide quality, informed coaching on climbs up to 5.13 and V8
Preferred experience coaching a competitive youth climbing team that was involved in the USA Climbing competition circuit
Preferred experience instructing climbing to youth ages 6-18
Minimum 2 years of personal competition experience on the USA Climbing youth or professional circuit, preferably since 2012
Possession or active pursuance of the requirements to be a USA Climbing Certified Coach (currently up to date CPR/First Aid/AED, background check, and SafeSport Training Program completion)
Knowledge and experience with the USA Climbing rulebook, competition formats, and operational procedures
A passion for working with kids ages 6-18
Strong communication skills