Who is Ascent?
We are an energetic team of dedicated climbers working together to:
Foster community. We strive for a diverse, inclusive, friendly community with a shared passion for climbing.
Serve the community. We have the duty and privilege to provide the front range with the best indoor climbing experience possible.
Have fun! We're always looking for creative ways to inspire and pleasantly surprise.
Join us!
How to Apply
Please review the job descriptions and qualifications listed below to determine if you're a good fit for our open positions. If so, please send a resume and cover letter indicating what position(s) you are applying for to:
We strongly encourage people from underrepresented groups to apply.
Ascent Studio is proud to be an Equal Opportunity Employer. We do not discriminate on the basis of race, religion, color, sex, gender identity, sexual orientation, age, non-disqualifying physical or mental disability, national origin, veteran status or any other basis covered by appropriate law. All employment is decided on the basis of qualifications, merit, and business need. We are pleased to be an inclusive and welcoming community.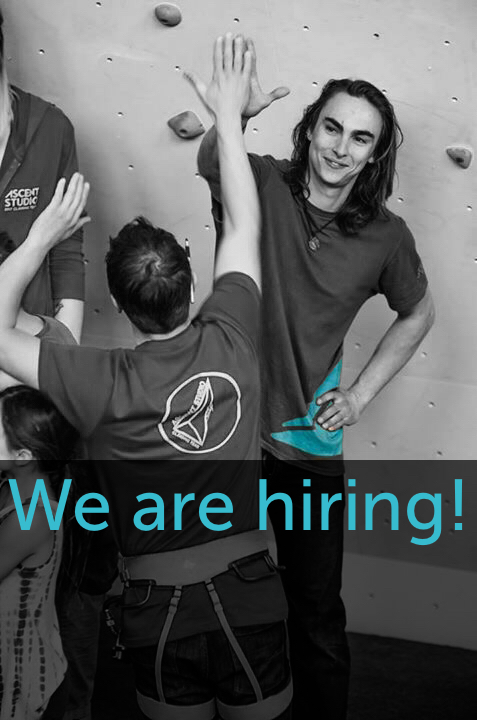 Youth Programs
Team Ascent Head Coach
Job Parameters
Part-time, 25-35 hours per week
Weekend availability required
Pay Range: $17/hr to $20/hr, DOE
Job Requirements
Minimum 5 years of extensive climbing experience in multiple disciplines at an advanced level, including both indoor and outdoor bouldering and sport climbing
Ability to provide quality, informed coaching on climbs up to 5.13 and V9
Minimum 2 years of experience coaching a competitive youth climbing team that was involved in the USA Climbing competition circuit; pre-COVID experience preferred
Minimum 2 years of instructing climbing to youth ages 6-18
Preferred: 2+ years of personal competition experience on the USA Climbing youth or professional circuit, since 2015
Possession or active pursuance of the requirements to be a USA Climbing Certified Coach (currently up to date CPR/First Aid/AED, background check, and SafeSport Training Program completion)
Extensive knowledge and experience with the USA Climbing rulebook, competition formats, and operational procedures
Experience writing and implementing coaching curricula for large programs (20 participants or larger), as well as individualized training plans for elite-level athletes (climbing 5.13/V9 or above)
A passion for working with kids ages 6-18
Strong communication and organizational skills
You Will
Identify and implement a mission statement and core values for Team Ascent that are in line with the mission and values of the Ascent Studio Youth Instructional Program
Attend and oversee all Team Ascent practices, or secure coverage when travel or other life events prevent practice attendance
Design and implement training programs for the Competition, Development, and Preparatory levels of Team Ascent
Provide individualized training plans for Team Ascent athletes when applicable
Design, enforce, and continuously improve a qualification process for selecting members of the Comp, Dev, and Prep levels of Team Ascent
Implement and enforce coaching practices that emphasize the physical and emotional health and safety of all Team Ascent athletes
Travel with qualifying Team Ascent athletes to local, Regional, Divisional, and National level competitions
Maintain a healthy relationship with other Front Range climbing team programs, and actively pursue opportunities for collaboration that benefit Team Ascent athletes
Maintain a constant line of communication with Team Ascent parents and athletes, and distribute all relevant information regarding practices, team events, and competitions
Communicate regularly with individual Team Ascent athletes and parents regarding athlete performance and progression
Stay up to date with modern training research pertaining to climbing and youth athletic development
Pursue professional coaching development opportunities on a personal level, with the support of Ascent Studio Climbing & Fitness
Play an active role in the hiring process of the Team Ascent coaching staff
Help develop the Team Ascent coaching staff on a professional level, with the support of the Director of Programming
Communicate the needs of Team Ascent with the Director of Programming, and ensure that those needs are met in a timely manner
Communicate with the Director of Programming and the Youth Programming Coordinator to ensure that Team Ascent functions as an independent but integrated unit within the Ascent Studio Youth Instructional Program
Communicate the setting-specific seasonal needs of Team Ascent with the Head Setter, and ensure that those needs are met in a timely manner
Create relationships with members, and help form bonds within the climbing community.
Be the face of Ascent Studio!
Summer Camps Youth Instructor
Please Note: We are currently looking for someone who has availability to work our summer camp programs. The hours are 8am-4pm weekdays, each week of the summer June 6th through August 12th. Please take this into consideration when submitting your application!
Job Parameters
Seasonal part-time with fluctuating hours; 30-40 hours per week during the summer
Some Weekend availability required
Pay Range: $13.50/hr to $14.50/hr, DOE
Job Requirements
Passionate about climbing.
Proficient with technical climbing skills including but not limited to belaying, knot tying, harness usage, and rope management.
Experienced in working with youth.
Invested in the climbing community.
Pediatric First Aid & CPR Certified (even if not current).
Available during the operational hours of the Ascent Studio Youth Camps.
At least 18 years old.
You Will
Uphold the Mission and Values of the Ascent Studio Youth Clubs.
Instruct youth ages 3-14 on the technical skills, techniques, and movement associated with bouldering and sport climbing.
Tailor instruction to match the abilities and needs of specific Ascent Studio Youth Camp participants.
Model and enforce best practices to maintain a culture of safety in the gym.
Prepare youth ages 3-14 to be effective and ethical members of the climbing community.
Communicate with parents regularly to keep them informed and excited about past and upcoming youth programming.
Yoga & Fitness
Yoga Instructor
Job Parameters
Part-time, teaching 1-2 regular classes per week with availability to sub for other instructors as needed
Weekend availability is preferred
Pay Range: $20-$25 per session, DOE
You Are:
A well-rounded, experienced yoga instructor
Comfortable teaching both Vinyasa and Restorative/Yin style yoga
Preferably experienced in teaching Yoga with weights (not required)
If you are interested in this position, please email your yoga resume to Megan, our Yoga and Fitness Coordinator: megan.ramirez@ascentstudio.com
Routesetting
Fulltime Journeyman Routesetter
Ascent Studio is looking an experienced routesetter. As a full time member of the team, you will work on a consistent, weekly schedule that typically includes three days of Route Setting and one day of basic setting maintenance, including hold washing, gear inventory and PPE inspection. The setting program runs four 9 hour days per week, Tuesday through Friday.
The Ascent Studio Setting Program Vision: To create Routes and Boulder Problems of varying styles and difficulties congruent with the needs and wants of the customer base. Each group of product should strive to serve the broadest spectrum of our customer base as possible. We endeavor to set Safe, Friendly, and Fun climbs in all styles and difficulties; ensuring that any person who walks into our gym can have success. As a setting team we work together to give helpful feedback and make corrections in order to produce the best Routes and Boulder Problems possible.
Qualifications:
Must be at least 20 years old
Must have a demonstrated interest in progressing as a climber and routesetter
Must have 3 years setting experience
Must have experience setting both ropes and boulder problems
Must be able to set and tweak V9/5.13
Must have competition setting experience
preferred: USAC Route Setting Certification
Job Benefits:
weekly paid yoga classes
3 weeks PTO
opportunities for financial support for routesetting development
Pay: $17/hr-$19/hr based on experience and 60 day review
If you believe you would add value to our setting program but don't yet meet all the criteria we have laid out in this advert, we would still love to hear from you. Please explain the value you would bring to this position in your cover letter.