Class Descriptions
All classes are 60-minutes unless noted otherwise
Power Flow Yoga Level 1
During this class you'll learn the fundamentals of vinyasa flow, build a strong foundation for your practice and set yourself up for success. This class moves at a moderate pace as you will connect breath to movement, while focusing on alignment.
Power Flow Yoga Level 2
Sweat it out! This Level 2 Power Flow class connects breath to movement in a faster pace class with challenging postures, creative movement and postures to help strengthen, balance and cleanse your body. So roll out your mat, plug into movement and sweat it out.
Ayurvedic Yoga
Ayurveda is a personalized approach to health — Deepak Chopra
Through Ayurveda's customized approach to breath, meditation, and postures you will find this class to be an ever-changing practice that will help you to discover exactly how to tailor yoga for your body, mind, and spirit.
Restorative Yoga with Sound Bath
This class will guide you through a sequence of yin postures that are held anywhere from 3-5 minutes, allowing you to work deeper than the muscular tissue, into the fascia, the deep connective tissue that supports your major muscle groups. This class includes an extended savasana with a crystal sound bowl "Sound Bath," promoting healing and relaxation for your mind, body, and spirit.
Limitless FUNdamentals - Beginner AcroYoga *
This class is an introduction to AcroYoga, a mix of partner acrobatics and yoga postures. This class helps you to build strength and trust within yourself as well as your partner. Bring a friend or come alone and make a friend. Roll out your mat and prepare to fly!
Total Core Workout
Never underestimate the importance of a strong core! Whether it's holding you upright as you're reading this or powering you through long climbs and tough workouts, your body's core enables pretty much every move you make. This class targets each section of your core through a variety of exercises designed to strengthen your abdomen and back muscles while increasing your flexibility and balance.
Vinyasa Flow
This is an all levels class with an energetic, flowing series of interconnected postures synchronized with breath. In a Vinyasa class, students awaken their inner strength, energy, flexibility, and balance in a fun atmosphere. Every practice is intended to be a complete experience, leaving you centered, grounded, and refreshed.
Circuit Fitness
This circuit fitness class is tailored to all fitness levels. It is a combination of endurance, strength and flexibility training designed to help you reach your fitness goals! Come join us!
Yoga Strong
Prepare for a full-body workout. Yoga Circuit incorporates strength and balance exercises into a high energy yoga class. Expect to increase your heart rate with core, isometric/body weight exercises, and a little cardio! Upbeat tunes and high-fives will be sure to keep your sprits up!
Instructor Bios
Chris Browning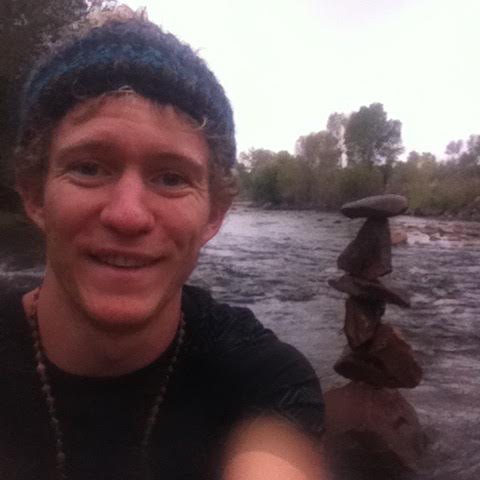 Chris Browning was born and raised in Colorado, and has now lived in Fort Collins for six years. After years of delving into activities such as rock climbing, hiking, and backpacking his path finally led him to yoga. Since his first class, Chris has fallen deeply in love with practicing yoga on his mat and even more with practicing it off his mat. This practice has led him to becoming an instructor and through this he has realized that he has found something that he has been searching for his entire life – a way of sharing energy with one another to continuously elevate a since of presence and love throughout the community.
Chris teaches both beginner and intermediate Vinasa flow classes as well as yoga with weights. During a typical class he will focus on breath, presence, compassion, and fully finding a mind-body connection. The intention of all of Chris's classes is to leave feeling elevated and with a smile on your face.
Jessy Bugg
Jessy is a Colorado native and has been practicing yoga for about 15 years. After having kids, yoga became a part of her daily life which quickly led to completing a 200 hour RYT training in 2012. Jessy loves to teach vinyasa flow and restorative yoga that focuses on staying present, challenging yourself and having fun. In addition to teaching public classes, in 2016 Jessy started her own company, Colorado Corporate Yoga, bringing yoga into the workplace to manage a healthy mindset.
When she's not teaching or taking yoga Jessy can be found with her family, riding bikes, climbing, running, cooking and eating, taking pictures, or enjoying the beautiful Colorado weather.
Sita Field
Sita Field has been a student of yoga since 1994, and later became an RYT-200 and RYPT certified teacher in Shambhava Yoga™. Her teaching philosophy is deeply rooted in cultivating a strong foundation of awareness and alignment, and helping students as they develop health through a holistic (body, mind, spirit) approach. Her teaching philosophy and extensive study of conventional and holistic medicine stems from her personal experience with Endometriosis and a near fatal car accident in 2001, that resulted in severe chronic health conditions. But it wasn't until she dedicated herself to the study of Yoga and Ayurveda (the sister science of yoga), that she saw her life really transform. She now teaches all of her classes from an Ayurvedic approach, helping people to learn how to utilize both Yoga and Ayurveda to advance their individual health.
Katherine Indermaur
Originally from North Carolina, Katherine began both practicing yoga and rock climbing in 2008. She completed her 200-hour training to become a registered yoga teacher at Blossom Yoga Studio in Laramie, Wyoming in May 2014. She has since completed additional training in aerial yoga, meditation, anatomy, and stress relief. Her teaching experience includes group classes for children and adults in vinyasa flow, hot power, restorative, yin, and aerial styles at all levels, as well as workshops for athletes and at professional events.
Katherine's classes are fun, challenging, never boring, and often incorporate her love of literature. In her free time, Katherine enjoys reading, writing, climbing, hiking, skiing, camping, cooking, and eating.
Monica Palomino
Like so many people, Mon never expected yoga to transform her art of daily living. She began practicing in high school after a running injury. While it began as a place she went to build strength and quiet the mind, she found that yoga's blending of body and spirit addressed the question she often considered - how to be present. Mon began practicing and received her 200 hour Power Yoga certification (2012) in her sunny Californian hometown of Aliso Viejo. Shortly after, she moved to FoCo to pursue her degree in Food Science and Human Nutrition at CSU. She gets funky in the kitchen with plant-based foods and loves fueling her creativity through travels.
Mon adheres to the golden rule: breathing heals. She believes the breath is the body's first line of response to stress, and we ought train the mind to observe it carefully. When she's not on her mat, you can find her: hiking, riding, climbing, inverting, and throwing the ball for her dog Billy. 
Megan Ramierz
Megan recently moved to Colorado from Venice Beach, Ca after craving a retreat from the city. Her love for the mountains, rock climbing, and a more adventurous environment landed her in Fort Collins. Before Venice, Megan had been backpacking around the world for three years. While abroad, she immersed herself in many different cultures where she learned alternative styles of healing, Yoga, and spiritual practices. As she continued to travel, she was inspired to build her own practice, taking what worked for her from various ancient and contemporary traditions. Megan has been trained in guided meditation, sound therapy, energy healing, and of course, Yoga. Her intention is to share with her community the healing benefits of the mind/body/spirit connection through breath, movement, and sound. She hopes to integrate these traditions into people's busy lives to help them find not only peace and relaxation, but a sense of personal empowerment.
Shelby Robicheaux
Shelby started practicing yoga 8 years ago and after seeing how it improved every aspect of her life, she knew she wanted to teach. Through yoga, Shelby has found how to live in the present moment. Her classes focus on the breath, connecting the mind and the body, while cultivating intention, balance and strength. Her classes work to empower others, to leave them feeling restored and rejuvenated. Yoga is Shelby's greatest passion, along with nutrition, music, skiing, rock climbing, and hiking.  200 hr RYT and an ACSM certified exercise physiologist, Shelby's goal is to help people live a healthier life so that they can live to the fullest.